Well i have managed to sucessfully blog for 3 years, I have managed to create a blog post from my iphone and now I have ventured onto the ipad and am trying my first blog post with pictures added pictures and edited them on the ipad using Photoshop express.
To be quite truthful I cannot believe just how easy the whole process is and so quick.

Well enough waffle about my new toy, despite decorating Abi's bedroom and having her chaos spilling out into my craft room I have managed to make a project to share.
Here is the mini wreath i've made. The papers are sadly sold out but I thought that the project was too cute not to share with you.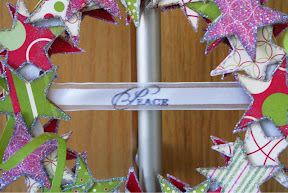 To start this project you need to make a ring from thick card, this forms the base of the wreath, rather than cover this with paper I painted it using a cream acrylic paint. Although you cant see it from the front I rolled the edge in a versamark ink pad and then sprinkled the edges with gold embossing powder that gave a lovely vintage edging.
The next step was stamping onto the ribbon, I used the basic black ink pad & the stamp a ma jig. Then stretched the ribbon across the middle of the wreath, securing with sticky strip.
The stars are cut from real red card and then stuck onto the stars cut from dsp. Using a glue pen & dazzling diamonds glitter glitter just around the edges on all but 5 stars. The remaining 5 stars were completely covered with versamark ink and sprinkled with heat & stick, heated and them completely covered with dazzling diamonds.
The whole wreath was assembled using ahot glue gun, this probably isn't necessary in a normal household without an inquisitive kitten.
Well I hope that you've enjoyed my first blog post complete with spelling mistakes from the ipad.
Posted using BlogPress from my iPad